Complete Rembrandt Catalogue: Portraits of Family Members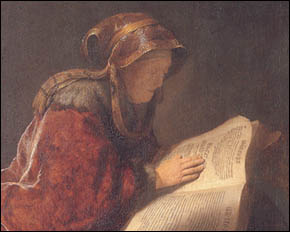 When complete, this online catalogue will comprise more than 300 paintings divided into 7 sections: history paintings, landscapes and animals, self portraits, portraits of family members, genre scenes and portraits.
This catalogue does not propose any single evaluation, however authoritative, by any single party as to the authenticity of any painting. Rather, it should be considered an overview, or a distillation of those works which seem for the most part generally accepted as authentic works painted by the artist's hand. In fact, it has proved particularly vexing to establish a definitive catalogue of Rembrandt's oeuvre. Many works are poorly preserved and have been overpainted by later hands and number of very important attributions are still disputed.
The situation is also complicated by the fact that Rembrandt took on an unusually high number of apprentices in order to insure him a significant income. Some of these apprentices were sufficiently talented as to emulate Rembrandt's own painting and their best works are arduous to distinguish from Rembrandt's own. His work was also imitated by other talented painters as well both during and after Rembrandt's lifetime.
Every effort is being made to acquire the best quality high resolution images, which, however, is not possible in all cases.
An Old Woman at Prayer (hi res image)
(commonly called "Rembrandt's Mother")
oil on copper
c. 1629-1630
Salzburger Landessammlungen-Residenzgalerie,
Salzburg
A Bust of an Old Woman: ' The Artist's Mother' (hi res image)
c. 1629-31
oil on wood
61 x 47.3 cm.
Her Magisty Quenn Elizebeth II
An Officer (Rembrandt's father?) (hi res image)
c. 1629-1630
oil on wood
65 x 51 cm.
Paul Getty Museum, Los Angeles
Bust of an Old Man (commonly called "Rembrandt's
Father") (hi res image)
1630
oil on wood
22.2 x 17.7 cm.
Tiroler Landesmuseum Ferdinandeum, Innsbruck
Bust of an Old Man with a Beret (Rembrandt's father?)
c. 1630-1631
oil on canvas
46.9 x 38.8 cm.
The Mauritshuis, Amsterdam
Bust of an Old man with a Gold Chain (Rembrandt's father?)
c. 1630-1631
oil on wood
59.9 x 51.2 cm.
Private Collection, England
Rembrandt's Mother as the Profetess Hannah (hi res image)
1631
oil on wood
59.8 x 47.7 cm.
Rijksmuseum, Amsterdam
Old Man with a Black Hat and Gorget (Rembrandt's father?) (hi res image)
c. 1631
oil on wood
83.4 x 75.6 cm.
Art Institute of Chicago, Chicago
A Young Woman in Profile with a Fan (Rembrandt's sister?) (hi res image)
1632
oil on canvas
72.5 x 54.8 cm.
Nationalmuseum, Stolckholm
Bust of a Young Woman (Rembrandt's sister?)
1632
oil on wood
60.6 x 45 cm.
Boston Museum of Fine Arts, (on loan from the collection of R. C. Paine's wife)

A Bust of a Woman (Saskia van Uylenburgh ?) (hi res image)
1633
oil on wood (oval)
65.6 x 49.5 cm.
Rijksmuseum, Amsterdam
A Bust of a Young Woman Smiling (Saskia van Uylenburgh?) (hi res image)
1633
52.4 x 44 cm.
Gemäldegalerie Alte Meister,
Staaliche Kunstsammlungen Dresden
Saskia van Uylenburg in a Red Hat (hi res image)
c. 1633-1642
oil on wood
99.5 x 78.8 cm.
Germaldegalerie, Alte Meister Staatliche, Kustsammlungen, Kassel
Saskia Dessed as Flora
1634
oil on canvas
124-7 x 100.4 cm.
The Hermitage, St Petersburg
Bust of a Young Woman (Saskia van Uylenburgh?)
c. 1634-1635
oil on wood
62.2 x 48.9 cm.
National Gallery of Art, Washington D. C.
Flora (Saskia van Uylenburgh?) (hi res image)
1635
oil on canvas
123.5 x 97.5 cm.
National Gallery, London
Saskia with a Flower
1641
oil on wood
97.7 x 82.2 cm.
Gemäldegalerie Alte Meister,
Staaliche Kunstsammlungen Dresden

A Woman in Bed(Hendrickje Stoffels?) (hi res image)
c. 1645
oil on canvas
81.1 x 67.8 cm.
National Gallery of Scotland, Edinburgh
Hendrickje Stoffels
c. 1654
oil on canvas
72 x 60 cm.
Louvre, Paris
A Woman Bathing (Hendrickje Stoffels?) (hi res image)
1654
oil on canvas
61.8 x 47 cm.
London, National Gallery
Old man with a Beret (Rembrandt's brother?)
1654
oil on canvas
74 x 63 cm.
Pusckin Museum, Moscow


Hendrickje Stoffels (?) (hi res image)
c. 1654-59
oil on canvas
101.9 x 83.7 cm.
National Gallery, London
Titus at his Desk (hi res image)
1655
oil on canvas
77 x 63 cm.
Boymans-van Beuningen Museum, Rotterdam
Portrait of a Young Woman (Hendrickje Stoffels?)
c. 1655
oil of canvas
65.5 x 54 cm.
Los Angeles County Museum, Los Angeles
Flora (Hendrickje Stoffels) (hi res image)
c. 1656
oil on canvas
100 x 91.8 cm.
Metropolitan Musem of Art, New York
A Woman at an Open Door(Hendrickje Stoffels?)
c. 1656-1657
oil on canvas
88.5 x 67 cm.
Germaldegalerie, Staatliche Museen, Preussischer Kulturbesitz, Berlin
Portrait of a Boy (hi res image)
c. 1655-1658
oil on canvas
64.8 x 55.9 cm.
Norman Simon Museum of Art, Pasadena
Titus Reading
c. 1657-1658
oil on canvas
70.5 x 64 cm.
Kunsthistorisches Museum, Vienna
Titus
c. 1658-1659
oil on canvas
67.3 x 55.2 cm.
The Wallace Collection, London


Hendrickje Stoffels (?) (hi res image)
1660
oil on canvas
78.4 x 68.9 cm.
Metropolitan Museum of Art, New York
Titus
c. 1660
oil on canvas
71.5 x 67 cm.
Baltimore Museum of Art, Baltimore
A Young Monk (Titus) (hi res image)
1660
oil on canvas
79.5 x 67.5 cm.
Rijksmuseum, Amsterdam
Titus
c. 1660
oil on canvas
72 x 56 cm.
Louvre, Paris


Juno(Hendrickje Stoffels?) (hi res image)
c. 1662-1665
oil on canvas
127 x 123.8 cm.
UCLA Hammer Museum, Los Angeles