Complete Rembrandt Catalogue: History Paintings II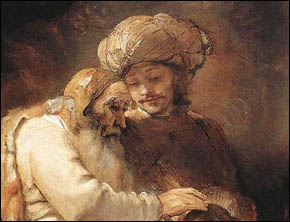 When complete, this online catalogue will comprise more than 300 paintings divided into 7 sections: history paintings, landscapes and animals, self portraits, portraits of family members, genre scenes and portraits.
This catalogue does not propose any single evaluation, however authoritative, by any single party as to the authenticity of any painting. Rather, it should be considered an overview, or a distillation of those works which seem for the most part generally accepted as authentic works painted by the artist's hand. In fact, it has proved particularly vexing to establish a definitive catalogue of Rembrandt's oeuvre. Many works are poorly preserved and have been overpainted by later hands and number of very important attributions are still disputed.
The situation is also complicated by the fact that Rembrandt took on an unusually high number of apprentices in order to insure him a significant income. Some of these apprentices were sufficiently talented as to emulate Rembrandt's own painting and their best works are arduous to distinguish from Rembrandt's own. His work was also imitated by other talented painters as well both during and after Rembrandt's lifetime.
Every effort is being made to acquire the best quality high resolution images, which, however, is not possible in all cases.
What is a History Painting?
A history painting is one which has a serious narrative, or includes exemplars of actions which are intended to have didactic overtones. In this sense the word history relates to the Italian istoria, meaning narrative or story (and not the accurate or documentary description of actual events). History paintings are often large in scale. Their subjects can be taken from the Bible, from mythology or other forms of secular literature, from historical events; or they can be allegories. Noble themes are seen as being particularly worthy of depiction.
History painting was viewed as the most important of the genres from about the 16th century, and the climax of an academic painter's training. It was the equivalent of Epic or Tragedy in literature.
In the Netherlands, history painting, which was once the pinnacle of pictorial art, gradually became a minority art. Most young painters opted for the specialist career in one of the categories of painting that were menaced by realism. This was also, of course, a result of the economic situation within which they had to find a living as professional painters.
The Resurection of Christ
c. 1635-1639
oil on canvas
93.7 x 67 cm.
Bayerische Staatsgemäldesammlungen, Alte Pinakothek
Munich


The Blinding of Samson (hi res image)
1636
oil on canvas
236 x 302 cm.
Städelsches Kunstinstitut, Frankfurt
The Ascesion
1636
oil on canvas
93 x 68.7 cm.
Alte Pinakothec, Bayerische Syaatsgemäldesammlingen,
Munich
Danea (hi res image)
1636
oil on canvas
185 x 203 cm.
The State Hermitage Museum, St. Petersburg
Susanna and the Elders (hi res image)
c. 1636
oil on wood
47.2 x 38.6 cm.
The Mauritshuis, The Hague
The Archangel Leaving the Family of Tobias
1637
oil on wood
66 x 52 cm.
Musée du Louvre, Paris
Abraham's Sacrifice
c. 1637
oil on canvas
66 x 52 cm.
Louvre, Paris
Samson at the Wedding
1638
oil on canvas
125.6 x 147.7 cm.
Staatliche Kustsammlungen, Gemäldegalerie, Alte Meister,
Dresden

Christ and the Magdalen at the Tomb (hi res image)
1638
oil on wood
24 x 19 1/2 in.
Royal Collection, London
The Visitation
1640
oil on wood
56.6 x 47.8 cm.
Detroit Intitue of Arts, Detroit
David and Jonathan (hi res image)
1642
oil on wood
73 x 61.5 cm.
Hermitage, St. Petersburg
The Toilet of Bathsheba (hi res image)
1643
oil on wood
57.2 x 76.2 cm
Metropolitan Museum of Art, New York

The Woman Taken in Adultury (hi res image)
1644
oil on wood
33 x 25 3/4 in.
National Gallery, London
The Holy Family (hi res image)
1645
oil on canvas
117 x 91 cm.
State Hermitage Museum, St. Petersburg
Tobit and Anna with the Kid
1645
oil on wood
20 x 27 cm.
Staaliche Museen Preussischer Kulturbesitz, Gemäldegalerie
Berlin
St. Joseph's Dream
oil on wood
1645
Staaliche Museen Preussischer Kulturbesitz,Gemäldegalerie
Berlin
The Adoration of the Shepards
1646
oil on canvas
97 x 71.3 cm.
Staatliche Kustsammlungen, Gemäldegalerie, Alte Meister,
Dresden

The Adoration of the Shepards
1646
oil on canvas
65.5 x 55 cm.
National Gallery, London
The Holy Family
1646
oil on wood
Staaliche Kunstsammlungen Kassel, Schloss Wilhelmshohe,
Kassel
Abraham and the Angels
1646
oil of wood
16 x 21 cm.
Aurora Art Fund, New York
Susann and the Elders (hi res image)
1647
oil on wood
76.6 x 92.8 cm.
Staaliche Museen Preussischer Kulturbesitz, Gemäldegalerie
Berlin

The Supper at Emmaus
1648
oil on wood
68 x56 cm.
Louvre, Paris

Head of Christ
c. 1650-1652
oil on wood
25 x 21.5 cm.
Staaliche Museen Preussischer, Kulturbesitz,Gemäldegalerie
Berlin
Aristotle with a Bust of Homer
1653
oil on canvas
143.5 x 136.5 cm.
Metropolitan Museum of Art, New York
Joseph and Potiphar's Wife
1655
oil on canvas
113.5 x 90 cm.
Gemäldegalerie, Staatliche Museen,
Preussicher Kulturbesitz, Berlin

The Polish Rider (hi res image)
1655
oil on canvas
114.9 x 135 cm
Frick Collection, New York
A Man in Armour
1655
oil on canvas
137.5 x 104.5 cm
City Art Gallery and Museum, Glasgow
Alexander the Great (?)
c. 1655
oil on canvas
118 x 91.1 cm.
Calouste Gulbenkian Foundation, Oeiras (Portugal)

Jacob Blessing the Children of Joseph (hi res image)
1656
oil on canvas
175.5 x 210.5 cm
Staatliche Museen, Kassel

The Apostle Paul
c. 1657
oil on canvas
131.5 x 104.4 cm.
National Gallery, Washington D.C.
Zeus and Mercury in the House of Filomen and Bauci
1658
oil on wood
54.4 x 68.5 cm.
National Gallery, Washington D.C.
Christ and the Samaritan at the Well
1659
oil on wood
48 x 40.5 cm.
Staaliche Museen Preussischer, Kulturbesitz,Gemäldegalerie
Berlin
The Smaritan at the Well
c. 1659
oil on canvas
63.5 x 48.9 cm.
Metorpolitan Museum of Art, New York
Peter Denies Christ
1660
oil on canvas
154 x 169 cm.
Rijksmuseum, Amsterdam
The Apostle Bartholomew
c. 1660
oil on cnavas
122.7 x 99.5 cm.
Timken Art Gallery
San Diego (California)
Matthew and the Angel (hi res image)
1661
canvas
96 x 81 cm.
Hermitage, St. Petersburgh
The Apostle Bartholomew
1661
oil on cnavas
87.5 x 75 cm.
J. Paul Getty Museum, Los Angeles
The Apostle Simon
1661
oil on canvas
98.3 x 79 cm.
Foundation Ruzicka, Kunsthaus, Zurig
The Virgin of Sorrows
c. 1661
oil on canvas
107 x 81 cm.
Musée Vosges, Epinal
Christ Resurected
c. 1661
oil on canvas
Bayerische Staatsgemäldesammlungen, Alte Pinakothek
Munich
The Conspiration of the Bataves
1661-62
oil on canvas, 196 x 309 cm
Nationalmuseum, Stockholm

Homer
1663
oil on canvas
108 x 82.4 cm.
Mauritshuis, The Hague
Bathsheba

1664
142 x 142 cm.
Louvre, Paris



Lucretia (hi res image)
1664
oil on canvas
120 x 101 cm.
National Gallery of Art, Washington D. C.
Lucretia (hi res image)
1666
oil on canvas
105 x 92.5 cm.
Institute of Arts, Minneapolis
Return of the Prodigal Son (hi res image)
c. 1666
oil on canvas
206 x 205 cm.
The Hermitage, St. Petersburg
Simon with Jesus (hi res image)
1669
oil on canvas
98 x 79 cm.
Nationalmuseum, Stockholm